Outpatient Physical Therapy in West Virginia


Your First Visit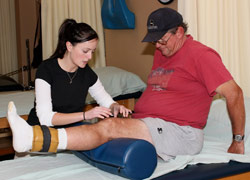 Thank you for choosing Marden Rehabilitation and allowing us to participate in your care. Below are some Questions and Answers to make your first visit go smoothly.
Q: What time should I arrive?
A: Please arrive 15 minutes before your scheduled appointment.
Q: What should I bring?
A: Make sure that you bring with your prescription for physical therapy (from your doctor), your medical or insurance card, and a list of the medications that you are currently taking.
Q: What do I wear?
A: Loose fitting, comfortable clothing is recommended along with athletic shoes. Please wear clothing that will permit you to expose the area we will be evaluating and treating. For example, for your shoulder problem wear/bring a loose fitting shirt or tank top. If it's your knee, wear or bring a pair of shorts. For back problems, dress comfortably!
Q: How long will it take?
A: Your first visit will last about an hour to an hour and one-half.
Q: Will I see a Therapist?
A: Yes. The physical therapist will complete your evaluation, which consists of your medical history and testing your functional movement, flexibility and strength. Also, the therapist may initiate treatment to help eliminate pain, and then establish a unique plan of care. Of course we'll be able to answer any questions you may have. Your therapist will then follow up with your physician.
Q: Will I schedule follow-up appointments?
A: Yes, so its helpful if you bring your schedule along with you. Follow up sessions may take 45 minutes to an hour. All programs are tailored to meet your specific needs and help you maintain an active lifestyle.
Q: Do I have to wait long after I arrive?
A: No. We understand how valuable your time is, so we pride ourselves on being on schedule. But, during your first visit, we have to complete the registration process, so that's why we ask you to arrive a bit earlier.
Q: Will I have to pay anything?
A: Your insurance copays are collected at the time of service. We will bill your insurance company or government program for the balance.
Q: Can I complete my registration paperwork before my first visit?
A: Yes. You can get your registration paperwork by clicking here. We can also mail it to you in advance when you call for your initial appointment.
Q: What if I have more questions or need directions?
A: Just click the links below to contact us.
Polaris Physical Therapy, Columbus, Ohio
Marden Rehab, Woodsfield, Ohio