OUTPATIENT PHYSICAL THERAPY IN OHIO


FOR YOUR GOOD HEALTH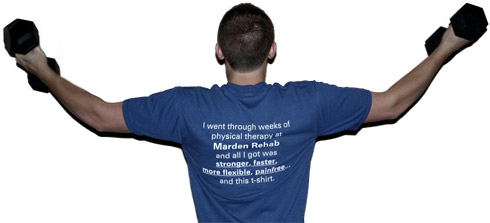 Marden is your comprehensive resource for Outpatient Physical Therapy. We are a Medicare Certified Rehabilitation Agency (which means we are reviewed by the Ohio Department of Health unlike private practitioners who are not required to adhere to our higher operating standards) and accept most insurances and Workers' Compensation.
Our experienced and qualified therapists treat people of all ages and diagnoses and our treatment goals are tailored specifically to you. Whether you are recovering from surgery, had an injury or accident, want to get back in the game or achieve relief from pain, Marden's professionals can help get you there. Marden is your prescription to good health. For quality, personal care, ask your physician to refer you to Marden Rehab today.
Services Offered Include:
Physical Therapy
Occupational Therapy
Manual Therapy
Sports Medicine
General Orthopedics
Industrial Rehabilitation