The Naming of Oceana, West Virginia
If you inquire about the origin of the name "Oceana", you're sure to get an interesting answer, as theories abound. (We guess that's because the source of the name "Oceana" is not as readily apparent as "Pineville".) We have collected some of the more interesting suppositions, and will leave it to you to decide.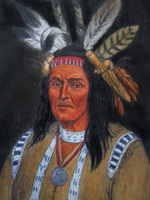 Theory #1 – According to the Mayor of Oceana, Nola Rose.... the daughter of Cornstalk, a famous Shawnee tribal chieftain, was lost, and someone looking for her said " O see Ann" and that's how Oceana was named.
Theory #2 – An Indian boy was in love with a girl who was a tribe-princess, named Anna.... and the boy was part of a different tribe and could not be in a relationship with her (remember Romeo and Juliet ?), so he went onto a big rock and sat there till he eventually died.... and he screamed oh-see-Anna (Oceana) with his last breath. Apparently someone heard that and the town was then named.
Theory #3 – Princess Anna (an Indian princess of unknown origin) was bathing in a local creek and two Indian boys saw her and went around saying oh-see-Anna, and the name stuck.
Theory #4 – The town is named for Ocie Anna, the Indian-stolen daughter of "old" William Cooke. Hamill Kenny of WVU believed this last explanation is most likely, pointing out that Ocie was a common West Virginia given name in earlier times and that the local pronunciation is oh-see-an-uh, not o-shee-an-uh. Mr. Kenny believes that one is to pronounce the name with the "see" in the middle, not the "shee".

Theory #5 – In 1853, Thomas Dunn English (1819-1902), a well know physician, lawyer, poet, playwright, novelist, journalist, and politician, who was then practicing law or medicine in Wyoming or Logan County, persuaded the court to change the town's name to Oceana, in honor of Chief Cornstalk's youngest daughter for reasons unknown.
So whether its unrequited love, a lost Indian Princess, an unintended glimpse, or the work of a crafty politician, we are proud to be part of Oceana.